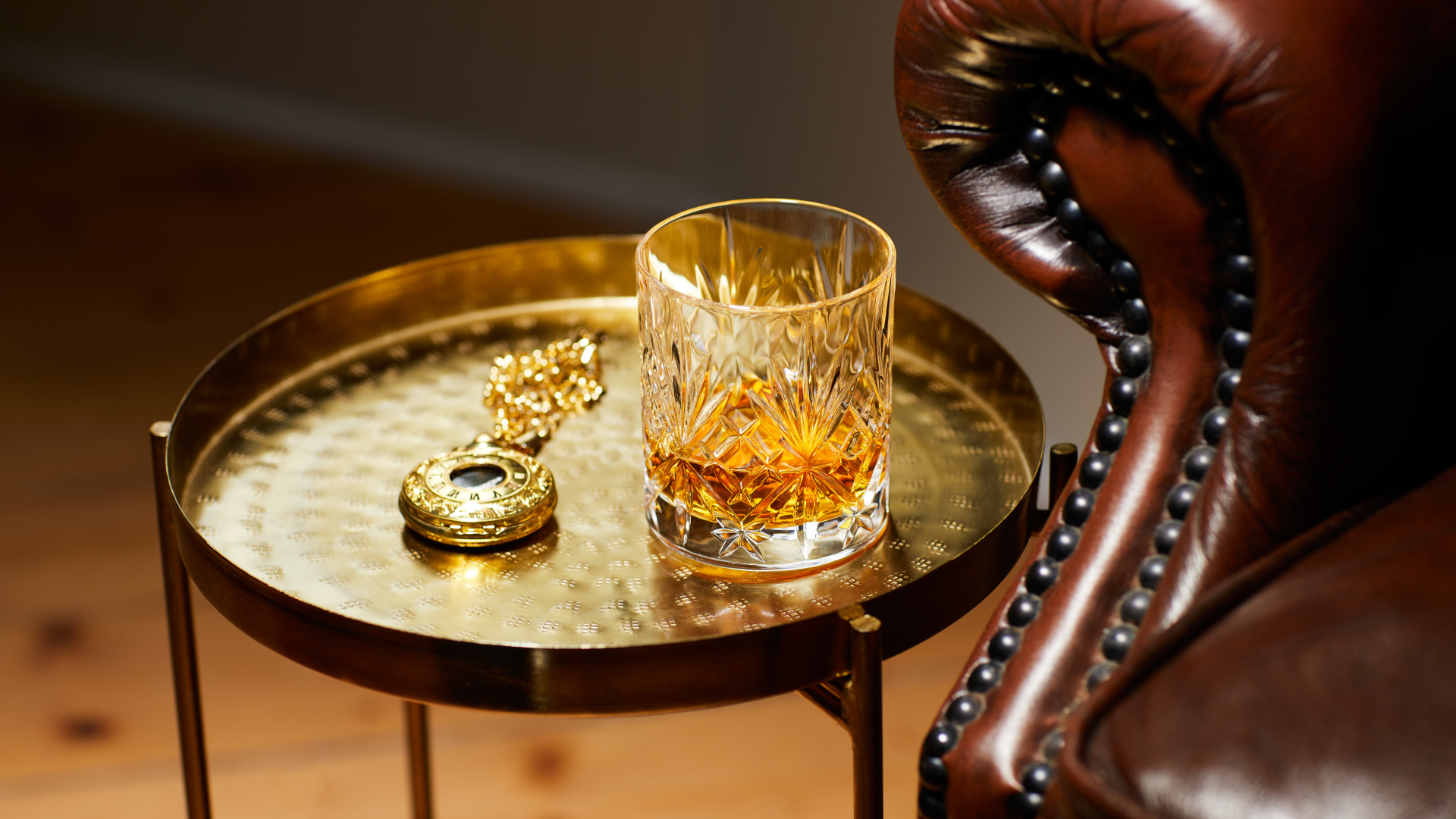 Hankey Bannister's Guide to Fabulous Festive Cocktails
Family reunions, celebrations, and new beginnings; does anything say Christmas quite like a celebration with friends and loved ones? At Hankey Bannister HQ, we like to celebrate the way our founders did, with a splash of substance and a twist of style.
So if you're looking for a little seasonal hosting inspiration, you've come to the right place! Christmas is the perfect opportunity to experiment with whisky flavours and we've developed some delicious festive cocktails to help you enjoy the superior taste of Hankey Bannister whilst delighting your guests and elevating your Christmas gatherings.
Hankey Bannister's Coconut Coffee Christmas
Creamy, rich and a hit of caffeine, what more could you ask for in a festive cocktail? Hankey Bannister's Coconut Coffee Christmas Cocktail is the ideal pick-me-up cocktail for entertaining.
Ingredients
Directions
To make the syrup, add equal quantities of sugar and water to a small saucepan over a medium heat with a sprinkle of cinnamon powder and stir until the sugar is dissolved. In a cocktail shaker with ice, combine Hankey Bannister, espresso, coconut milk, and your syrup. Shake well and pour into your favourite glass. Garnish with coconut shavings and a cinnamon stick.
Maple Syrup Sour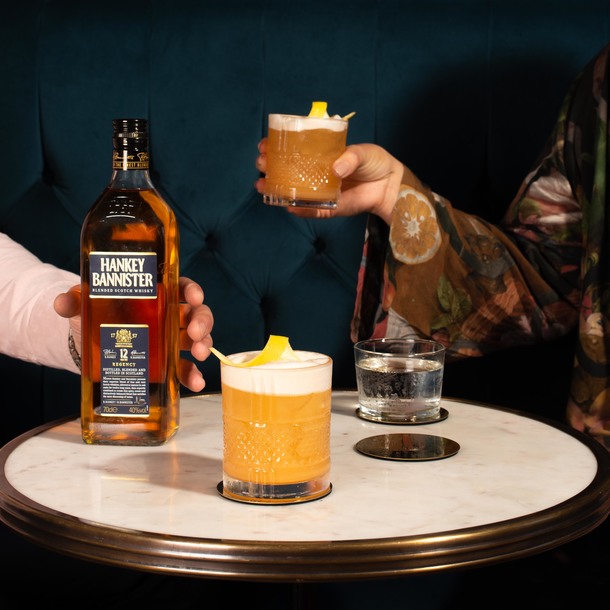 Sweet maple syrup combined with the slight smokiness of Hankey Bannister Heritage Blend? That's a double yes from us! Hankey Bannister's Maple Syrup Sour will take you on a sweet and slightly sour journey with a hefty pinch of ground cinnamon, because it's Christmas after all!
Ingredients
Directions
With Egg white: Add the lemon juice and egg white to an empty cocktail shaker and shake well until frothy. Add the rest of the ingredients with ice and shake well for 10 seconds. Strain everything into a rocks glass filled with ice and garnish with a sprinkle of cinnamon.
Without Egg White: Add all of the ingredients to a cocktail shaker with ice and shake well, double strain into a rocks glass filled with ice and garnish with a sprinkle of cinnamon.
Hankey's Boulevardier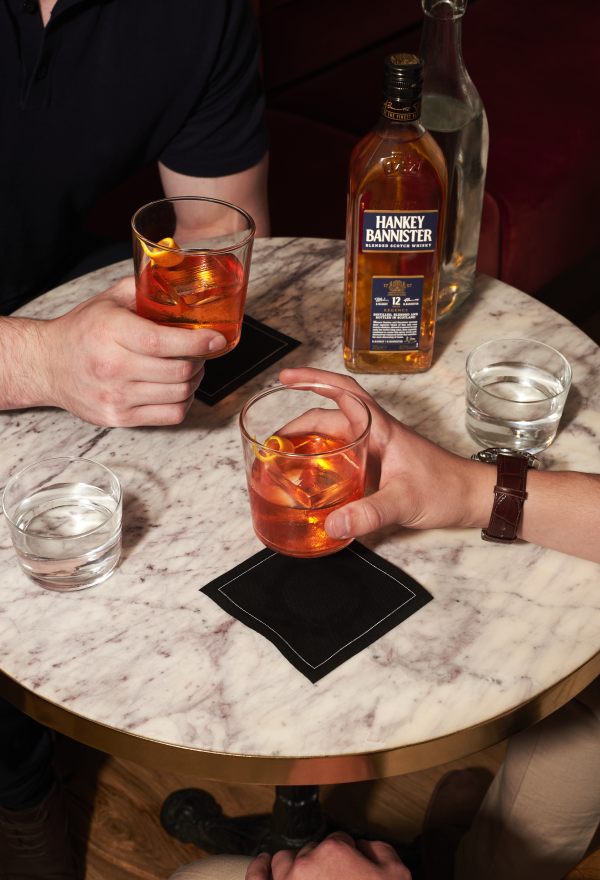 Beaumont Hankey was the embodiment of sophistication in every sense of the word, and this drink is a fitting tribute to his persona. It's not just the fashionable, alluring appeal that makes us want to recreate it again and again; it's also the indefinably refined taste—ideal for an elegant evening spent at home.
Ingredients
Directions
Add all ingredients to a mixing glass and stir with ice until you are happy with the dilution.
Strain into a rocks glass with ice and garnish with star anise, cloves and orange rind.
Bannister's Highball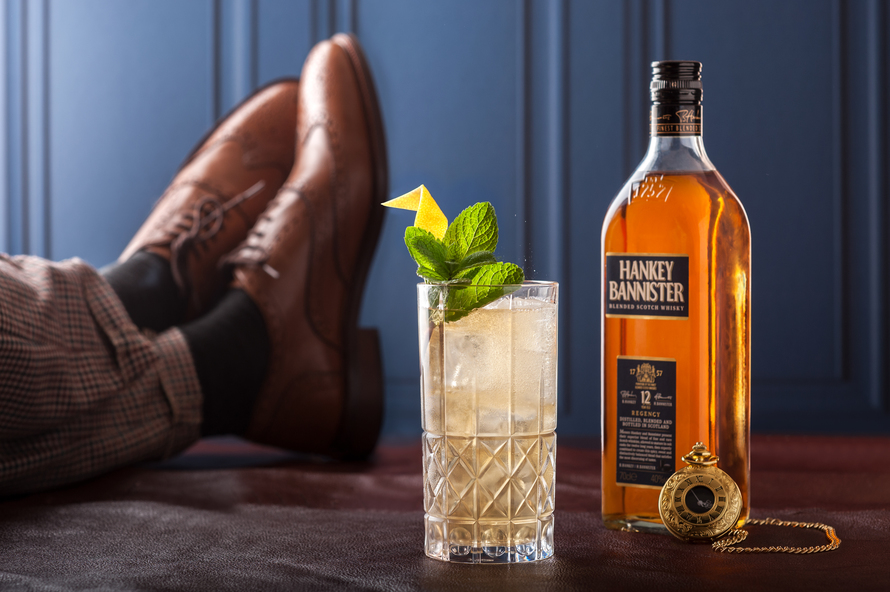 Unique, tall, full of personality? Stop it, we're blushing! Or were you referring to Bannister's Highball cocktail? Well, we must admit, Bannister's Highball is indeed something special, so we won't take it too personally.
Ingredients
Directions
Take a high ball glass with ice and dash your angostura around the inside of the glass. Add Hankey Bannister Original, Cider and top with Ginger Beer. Use a long spoon and pull through the ingredients to mix and garnish with a slice of Apple.
Old Fashioned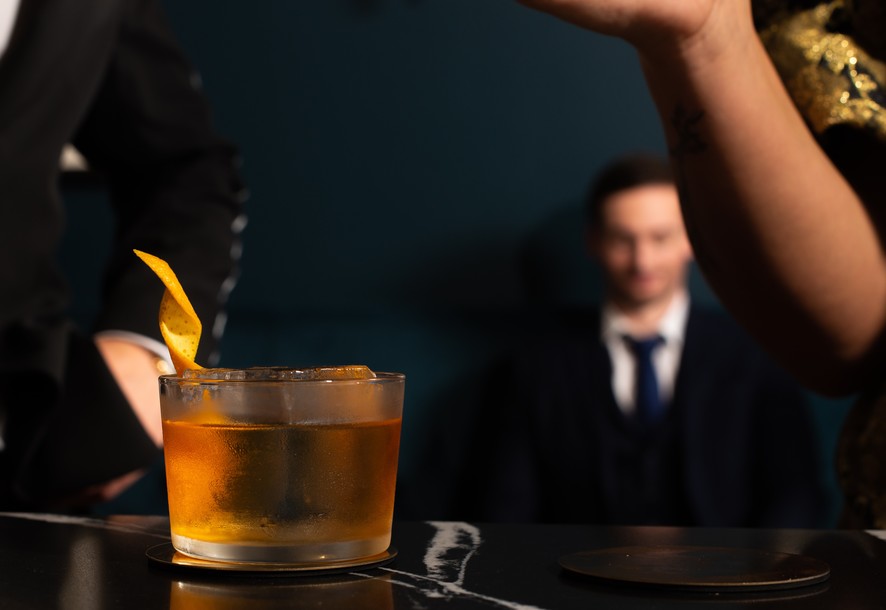 You won't ever hear us call ourselves old-fashioned; we love to bring a modern twist to our heritage and traditions. An old-fashioned cocktail, however, we will take any day—especially a wintery one!
If you want to spice things up and add a twist to this classic cocktail, make a simple syrup using any festive ingredient like ginger, pine, cloves, nutmeg, or apple, and add to your drink to taste.
Ingredients
Directions
Place the sugar and bitters into a rocks glass (chilled) and muddle together until mixed, feel free to add a dash of water or a squeeze of orange to help it mix. Once mixed add some of the whisky and a few ice cubes and stir for 15-20 seconds to bring the alcohol down to a good temperate and to start the ice melting. Keep adding a little more whisky, then a little more ice, and continue to stir. You might want to sip a little as you go and stop stirring when you feel it's diluted to your tastes.
Garnish with a twist of orange peel (twist the peel over the glass so the peel expresses its oils).
Cheers!
30. 7. 2021

14. 12. 2021