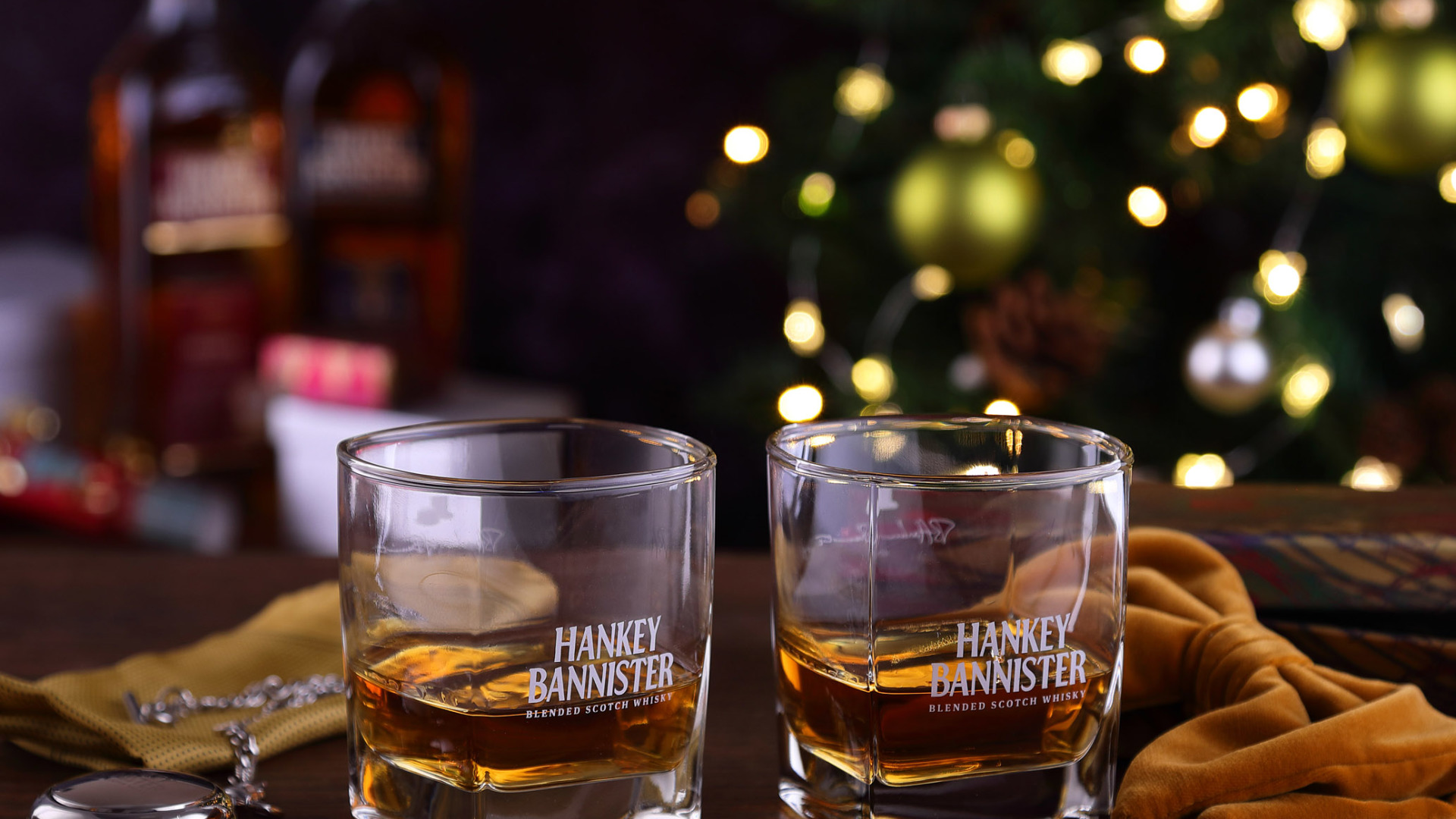 Hankey Bannister Christmas Whisky Guide
When it comes to choosing a favourite time of year, ours has got to be the festive period. Christmas, New Year, and everything in between - what's not to love?
Celebrating with friends, going all-out with decorations and decadent outfits, spending time with those who mean most to you, reminiscing the best times and welcoming new beginnings. These special occasions deserve exceptional accompaniments; whisky and Christmas go together like Santa and his sleigh. Speaking of Father Christmas, what better way to show your thanks to him while he's on his round-the-world jaunt than leaving a dram of your favourite whisky out for when he stops by with your presents? Whether you're entertaining in-person or digitally, let us do the hard work for you and recommend a whisky for any merry occasion.
They say original is best, and with our Original Blend we're inclined to agree. This warming whisky features a light, spicy aroma on the nose. Choosing this as your festive spirit will mean you can enjoy the honeyed tones either neat or in a delicious Christmas cocktail. We invite you to indulge in a whisky and ginger sour, a seasonal twist on our HB sour recipe. Add a dash of ginger liqueur to complement the spiced whisky and lemon classic.
21 Years Old Partners' Reserve
As we build-up to the big day, selecting a special whisky to enjoy on Christmas Day itself can seem difficult. How fortuitous then, that our 21 Year Old Partners' Reserve has tasting notes of Christmas cake and dried fruit on the nose, to help make your decision much easier? Whether you choose your pudding in cake or liquid form, this is an after-dinner delight to be savoured with your nearest and dearest.
If you're planning a get together with friends, either in-person or online, take along our classic Heritage Blend to be enjoyed. Perfect on its own or in a cocktail, it's a real crowd pleaser and sure to impress at any party. Our Bobby Bannister cocktail is a twist on the classic Bobby Burns with Martini Rosso and spicy Benedictine liqueur making this a perfect winter warmer.
12 years in the making, and ready for you to enjoy as a fine Christmas malt. The soft vanilla and smokey finish means this is the perfect accompaniment for a chilled night in between the festive celebrations. Savour this straight up, with a large ice cube.
Aged 25 Years
How do you plan to welcome in the new year? Whatever you are planning, make space for our full-bodied, luxurious classic to help you enjoy the celebrations. For when only the finest will do, we'd recommend this be savoured and enjoyed neat. A word to the wise - as well as being the perfect whisky to enjoy on New Year's Eve, this is a favourite dram of Santa Claus himself. Leaving a nip of this out on Christmas Eve will make sure you're always on the good list.
Find out more about our blended Scotch whisky which has been enjoyed in society for over 250 years, or browse our cocktail recipes for some showstopper cocktails that are sure to impress.
12. 3. 2020

1. 3. 2021