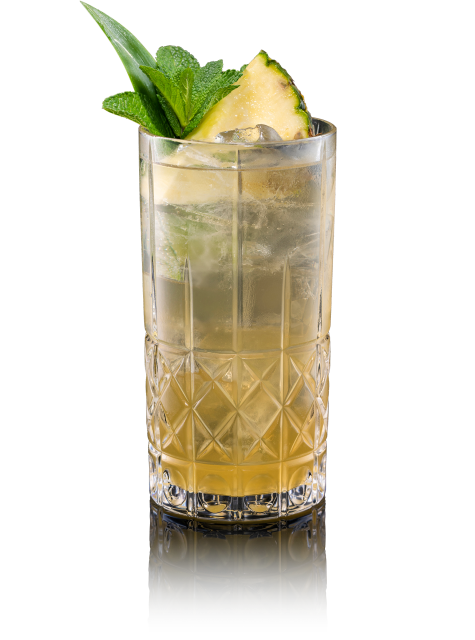 A Hankey Bannister original scotch whisky cocktail recipe; this drink is a light, refreshing cocktail that can be enjoyed at any time of day, any time of the year.
To start, pour 25ml of our award-winning Hankey Bannister Original Blend into a mixing glass for a sweet base that provides a layer of light aromatic spice.
Next, mix in 30ml of full-bodied Sweet White Vermouth to add notes of caramel and vanilla; 15ml of citrusy lemon juice to add sharpness; 15ml of pineapple syrup for sweetness; and, finally, a splash of warming Absinthe for a bold finish.
Top with soda water and serve in a stylish 5 1/2 oz coupette.
Recipe
Ingredients
25ml Hankey Bannister Original
30ml sweet White Vermouth
15ml lemon juice
15ml pineapple syrup
1 x dash Absinthe
Top with soda water
Method
Shake all the ingredients except the soda, serve and top with soda.
Garnish
Mint sprig and pineapple wedge
Glass
11oz Highball
Back to Cocktails